We know how badly termites can damage a building and how expensive it can be to then fix the issue.
This month, I want to write about the old way of protecting your property from termite damage and one of the new ways, a green way, to manage termite activity.
Old Way
In order for your pest manager to protect your home from termites they must create a barrier that is complete and continuous. In order to do this, it is ESSENTIAL that the pest manager dig a trench around your property. This is then flooded with large volumes of the liquid chemical. After this it needs to be back-filled with additional chemical. This is expensive and time consuming, not to mention the hundreds of liters of chemicals that is needed to be injected into the soil around your home. Of course pest managers don't always do this, leaving pockets in between and around your property making the treatment less effective. Furthermore, you need to keep well away while all this is going on…. Do you really want toxic chemicals around your home?

Green Way, the Best way!
Here is one of those green Termite Interception and Baiting Systems. It is called Exterra and this system offers an elite standard in termite management.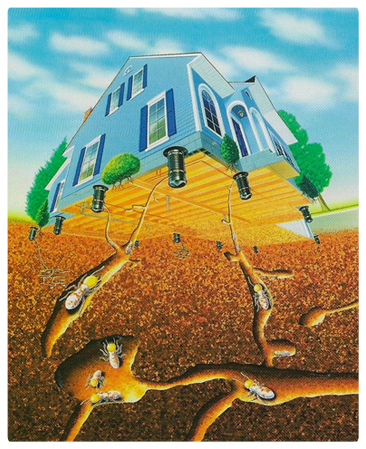 It is certainly long term, effective, family-safe and environmentally responsible termite management. It utilises in-ground closed and locked stations that are placed around your home every 3 meters approximately apart. Then a Termite Attractant is placed in the stations, this attractant is non-toxic, its a food base additive that once in contact with the soil it works with soil micro-organisms to slowly release a small, precisely determined amount of carbon dioxide (CO2) into the soil. Termites love CO2, this attractant works by mimicking those natural smells of both rotting wood and termite nests, so the CO2 in the soil directs termites to potential feeding sites. Exterra stations are doing its job, by naturally directing the termites to an Exterra station and not your home. Don't worry this attractant just attracts termites that are foraging for food really close to your property so its not attracting termites to your place. If the stations weren't there then these termites would eventually seek out and attack your home. In the Stations Eucalypt timber interceptors are used simply because studies have shown that this timber is the most favoured by termites. If it seems like a good meal to termites they will hungrily enter the Station, which mean they will be eliminated.
With this system you get protection, a product that actually eliminates the entire termite colony and does so without harming the environment and is safe for you, your family and pets and of course and there is no need for you to leave your home while the treatment is carried out.
Plus when you install Exterra Termite Interception System you will be supporting Australian Wildlife Conservancy and securing 22 acres of vital habitat for Australia's threatened wildlife. How is that for a little contribution to our Mother Earth?
If your interested in finding out more, please give us a call and we can email or post you more information about this Termite Interception System and other termite interception systems.
As usual hope this helps, leave your comments or questions, and feel free to propose a topic for my blog.
Thanks for reading